Last year we decided to make a DIY Barnwood Stocking Hanger to go above our gas fireplace.  I'm the first to admit I don't love our fireplace. The previous owners added it during one of the remodels and I understand why some would like it, but I don't. It's too modern. In fact, I'm quite certain I've seen the same one at Panera and another local coffee shop. Not exactly the 150-year-old rustic look I'm going for but never the less it's here until we change it, which isn't going to be anytime soon.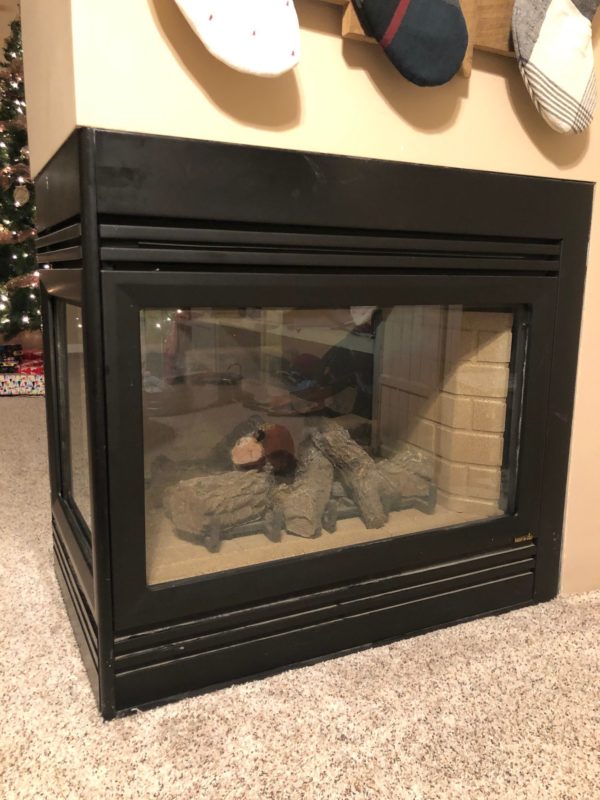 Another reason I don't love the fireplace is it doesn't have a mantel. I know I know, I'm thinking the same thing you are… why even have a fireplace if you can't hang stockings on it every December?!
We tackled the dilemma head on and created a beautiful hanger. In fact, it looks so good I actually keep it up all year and hang different things on it.
I debated on using raw barn wood versus running it through the planer, because I love the look of both. I decided on the raw to really contrast with the modern vibe of the fireplace. We just aligned the boards in a staggered formation and secured them on a cross board from the back. A few metal hooks and it was done.
This would be great if your fireplace doesn't have a mantel or perfect if you have no fireplace at all. You could also paint or stencil it. And stained 2x6s or 2×8's look almost as good, this is really an inexpensive project anyone could do.
Also, how cute is this galvanized wall shelf I found at Hobby Lobby? Not an antique but it was marked way down and looks great on the wall. I was also able to make the adorable pom pom garland with only yarn and scissors. Chrismas decor doesn't have to be expensive or complicated!