When we purchased our 150 year old farmhouse 5 years ago, we had at least 100 ideas we would "for sure" do over the next few years to make it our own. But as it turns out, projects require a lot of time and money. Besides a little paint and a few small projects, we haven't done much.
I finally decided to take the first step, and the bathroom seemed like an easy place as any to start.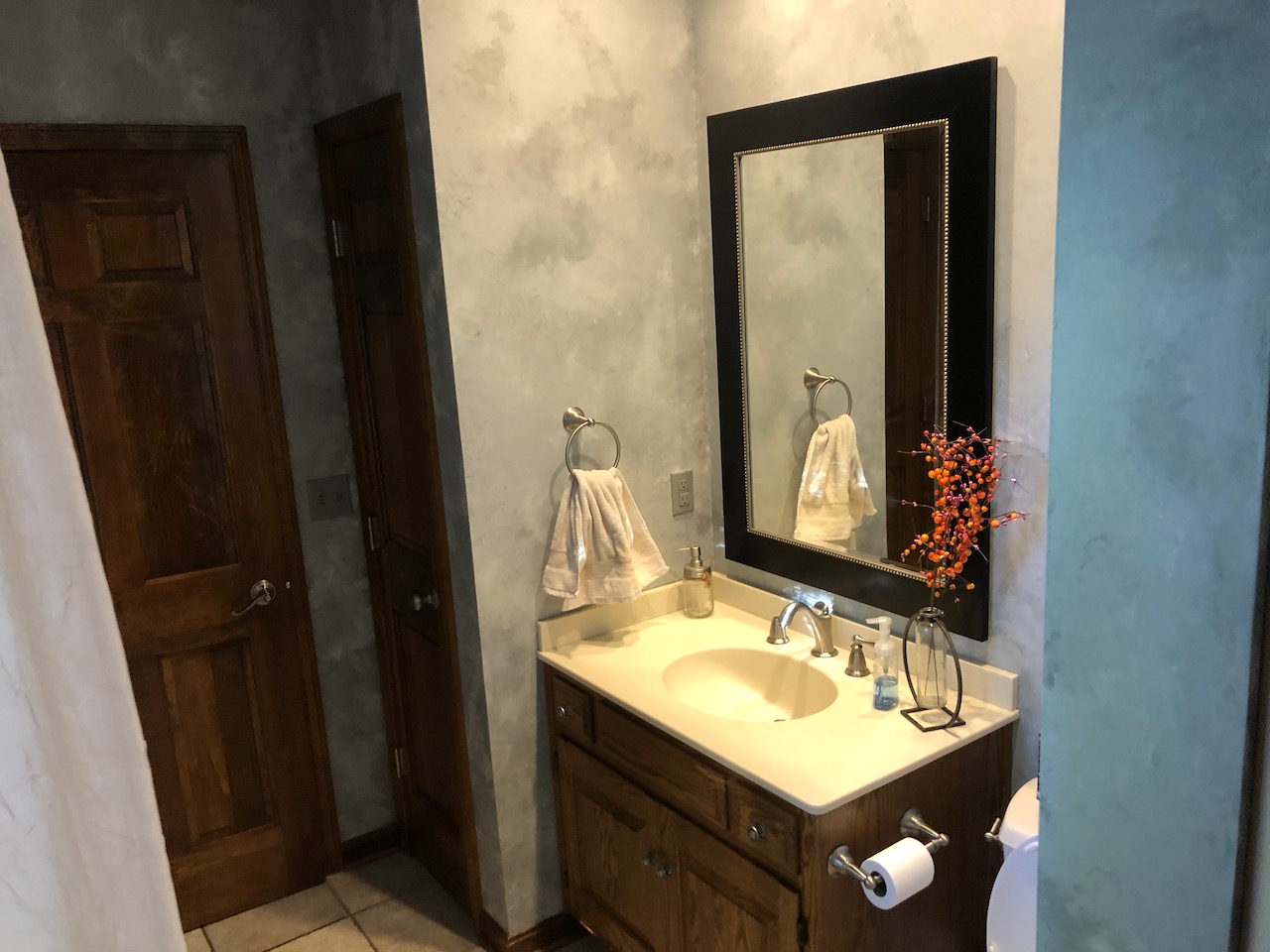 Our powder bathroom off the kitchen is actually a full bath. I would call it generic. It had textured blue paint that was very popular at one time, and pretty, but just not our style.
The first thing we did was paint. I went with Cottage White and Cottage Green for some fresh, earthy tones. I wanted subtle brass and copper highlights throughout the room, and chose to pull those in with the fixtures and accessories.
Some people are getting a little tired of the farmhouse look, but we actually have a farmhouse. Also I'm not tired of it. Which is why I chose a shiplap accent wall.
Nick planned on hanging lumber with spacers but found they carry pre-made tongue and groove boards just for this. They're a little pricer, but easy to install and because the space we covered is small, it was worth the extra change. He installed the boards, filled in the nail holes and painted it a bright white.
We also realized there was no tile under our current vanity. Fortunately we had some extra tile that was left at the house after this addition was put on. So, Nick learned to lay tile.
I searched high and low for a vanity online and found one that was perfect on Pinterest. I loved the color of the natural wood, the style of shelves, and the corian countertop with a marble finish. It took me a while to track it down but I ended up finding it at Costco. Who knew! And it had great reviews. Unfortunately our Costco didn't have it in-store, so we payed full price and had it shipped. It was about half the price if you could find it in-store.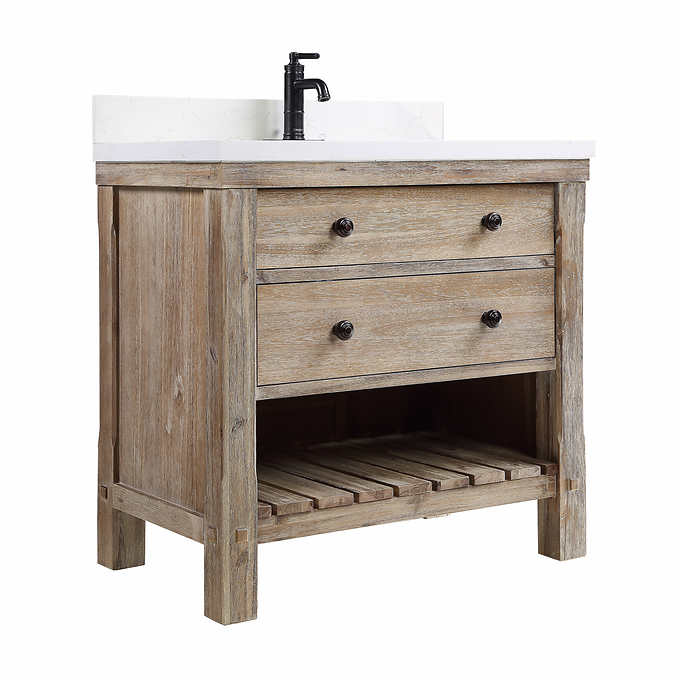 We found a dark copper faucet at Menards and changed out the light and plug-in covers, as well as the toilet handle to match.
I wanted a circle mirror. These are not cheap either. I found this one at Target for only $60 and it looks great. It's not a heavy duty or super sturdy, but just fine for this bathroom. The brass finish is perfect.
I'm really picky about shelves, tables, and brackets in terms of size, shape and color. I have difficulty finding what I want. Fortunately, Nick enjoys woodworking and can usually make something pretty close to my vision. He made two shelves, a small table, and towel racks for me.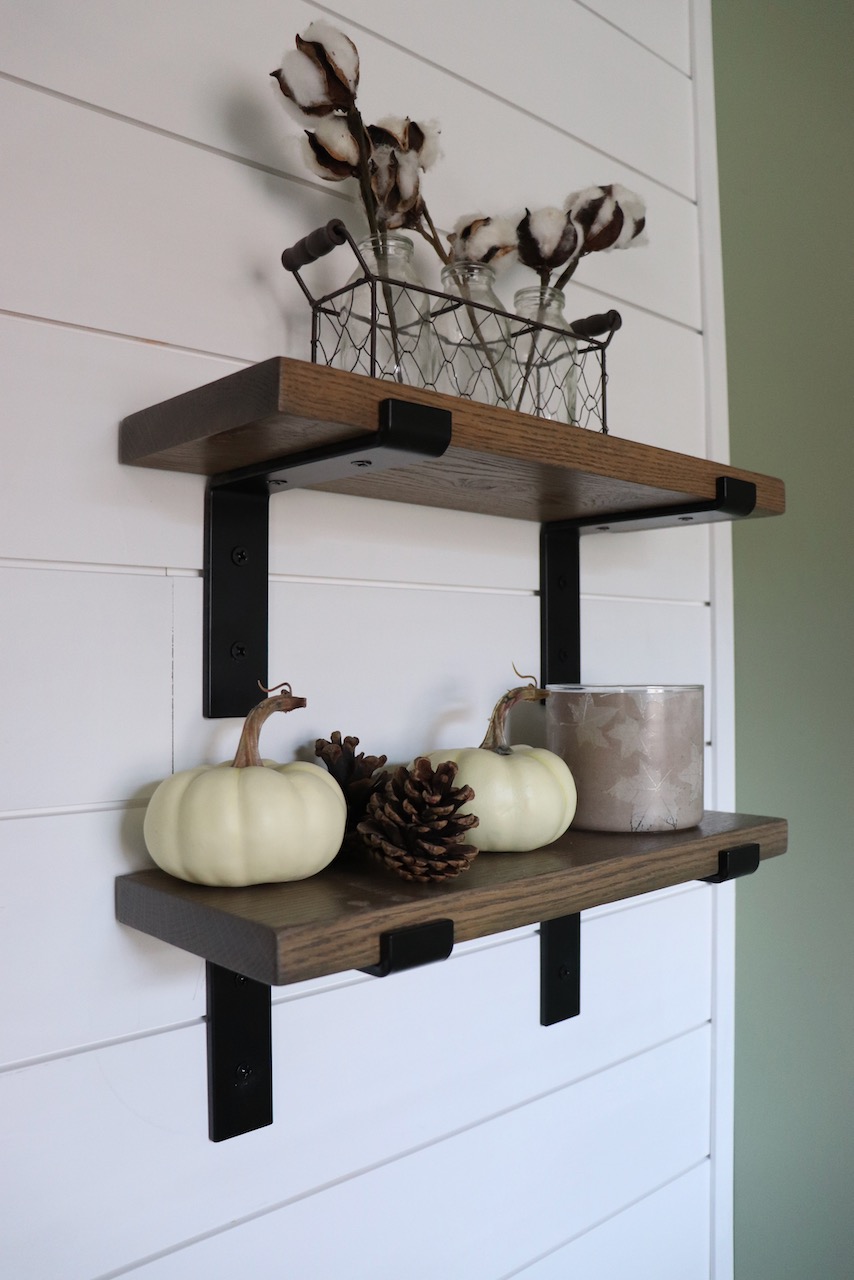 We have several of these shelves around the house which are basic l-shaped brackets with a stained board.
The table is made from hairpin legs we purchased attached to a stained board to match the shelves. This allowed us to make a custom size too, which helped in this small, awkward space. This table is probably my favorite piece.
The hand-towel and towel racks are made from coat hooks attached to stained blocks, which help tie in the woods and dark metals. I love the look of crisp Turkish towels in a bathroom, so I snagged these on Amazon.
Emily Ley suggests as one of her simple life hacks to have plane white towels. They're pretty, wash and bleach easily, and you don't have to worry about mixing colors. I bought white towels when I redecorated the kids bathroom a few months ago and did the same for this one.
I saw a portrait of a highland cow a while ago and kind of became obsessed with it. I have been waiting for a place to put one, and what better opportunity than this.
This bathroom gave me the motivated to start working on other areas of our home. Because our house is so old, I find myself saying "If we do this change, then we need to also do this room so it's cohesive and if we do that, then we'll have to…" and before you know it I go from buying a rug to doing a major home renovation.
Sometimes renovation is just a gallon of paint and moving the furniture, other times it's tearing down walls. The reality is I can do one space at time, and spend as little or as much as I need to. I'm looking forward to doing our basement next. More to come!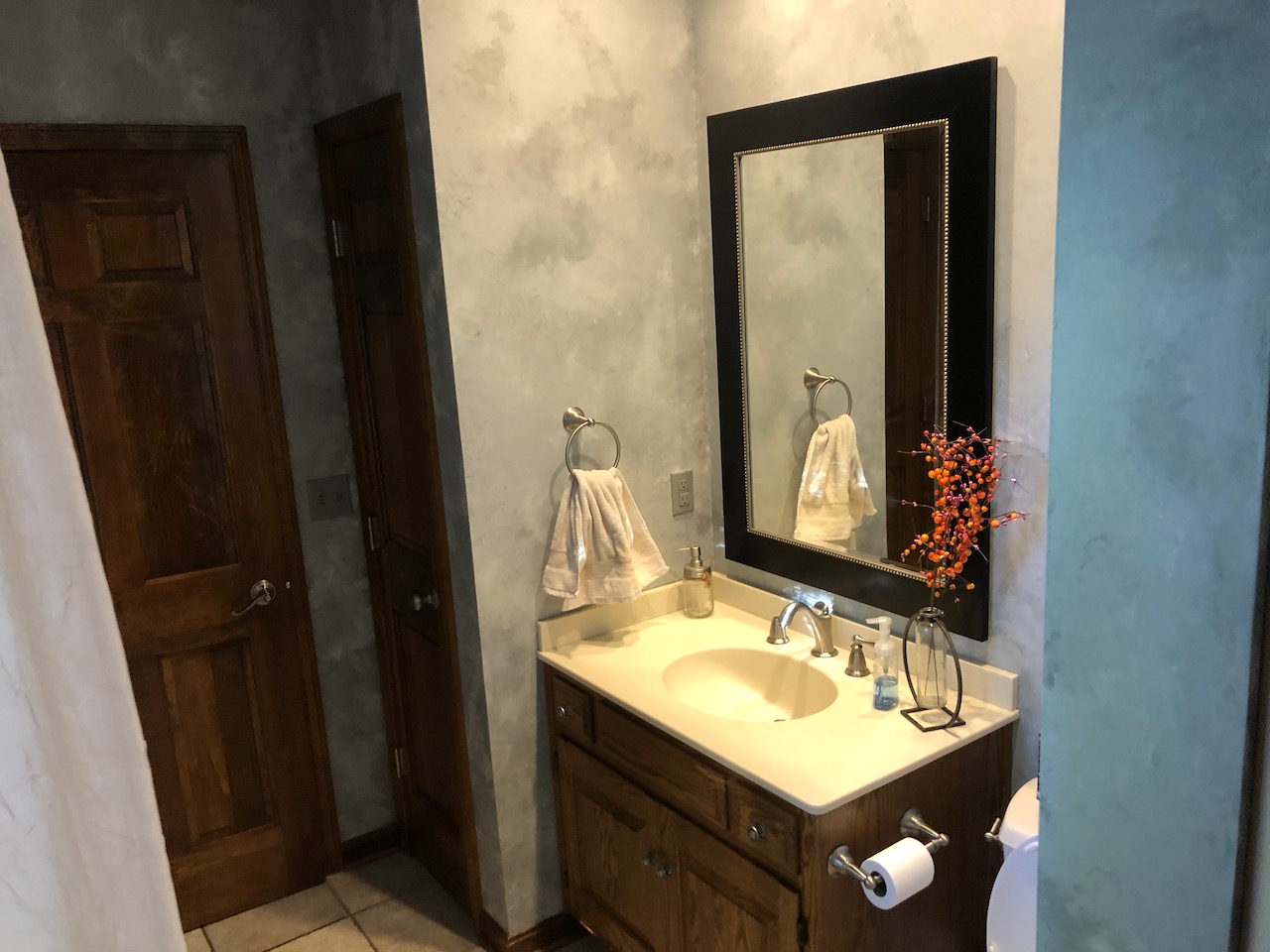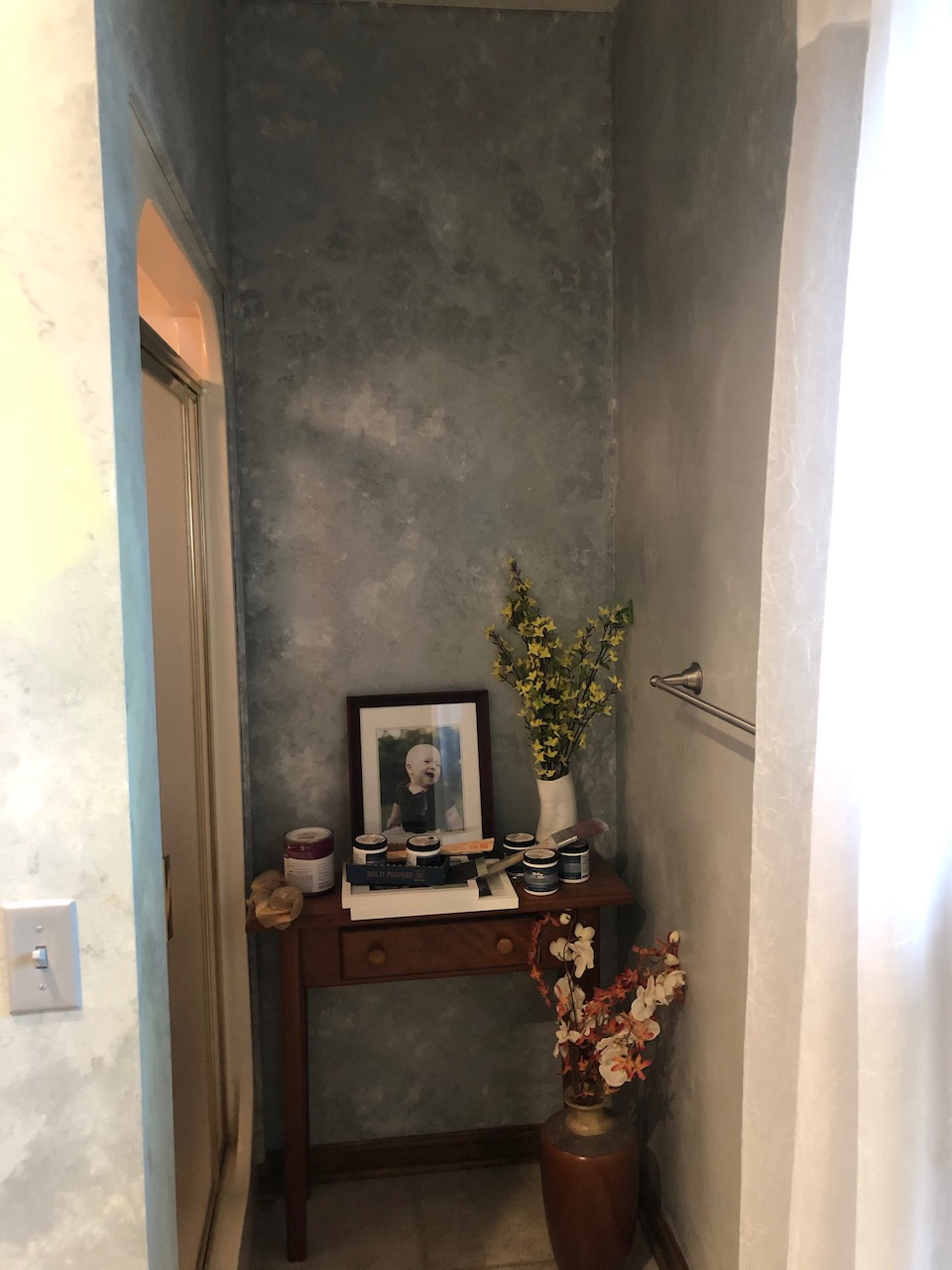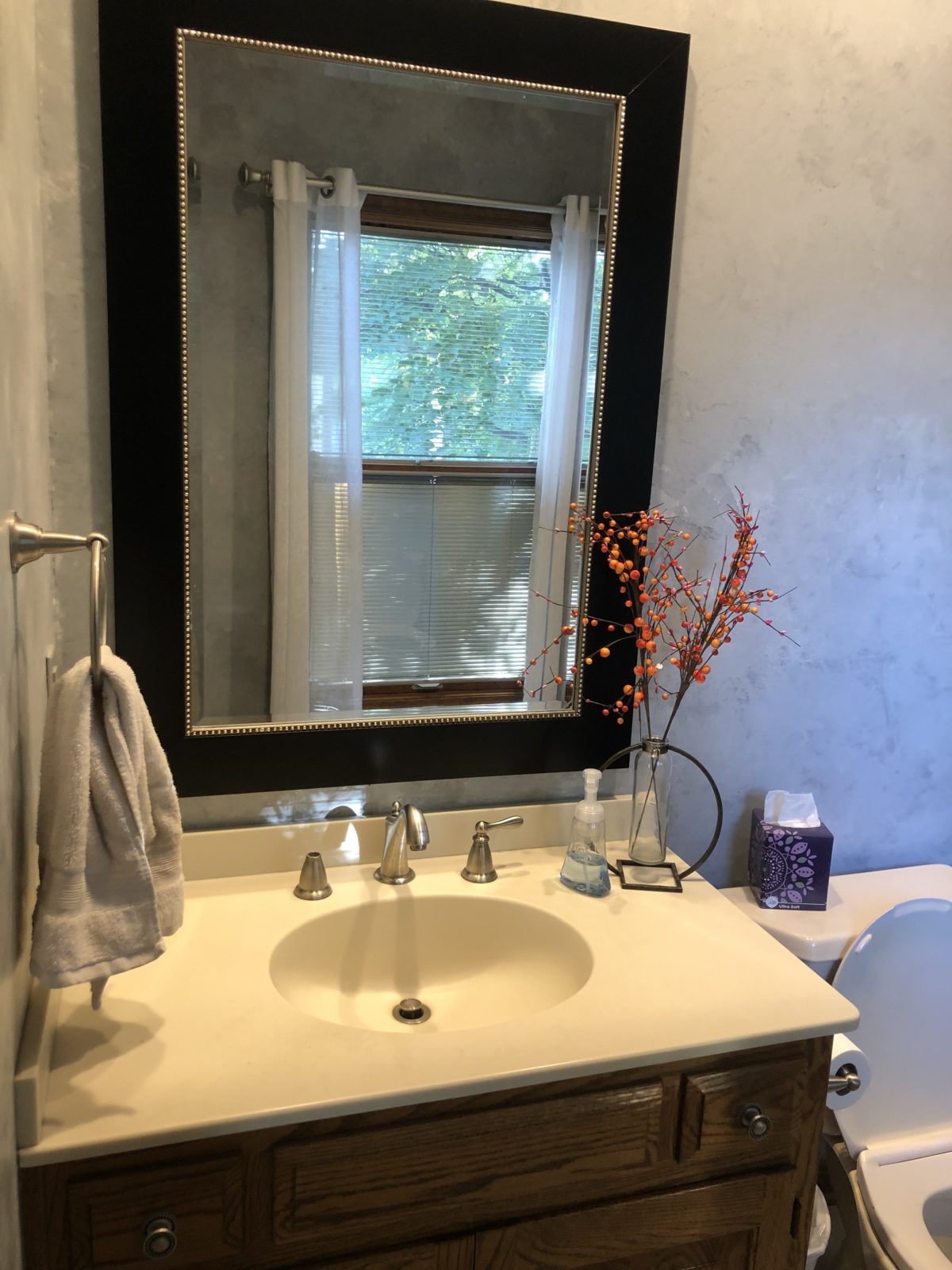 Links
Tongue and groove ship lap boards
Rustic vanity
Vanity faucet
Circle mirror
Shelf brackets
Hairpin table legs
Coat hooks for towel rack
Turkish hand towels
Highland cow portrait