Canning and pickling have become our new jam! Last year I had an abundance of cucumbers and tried pickling for the first time. When we ran out of our farm-to-table pickles around mid-spring and had to settle for store-bought, It made me realize what I was missing out on! Our pickles were hands-down better than anything Vlassic has ever sold. As it turns out, canning and preserving is a fairly simple process and takes less time than you'd think. We spent a few hours in total, preparing and preserving, and have about 40 jars to show for it.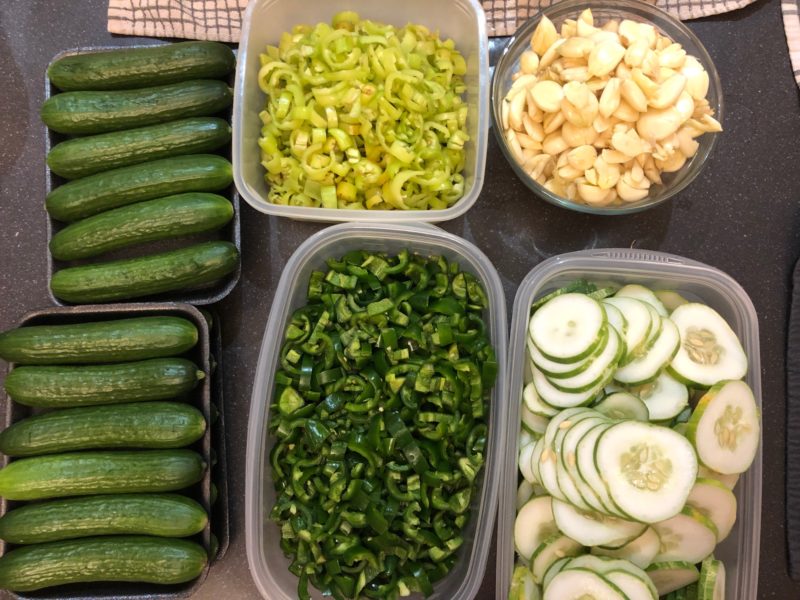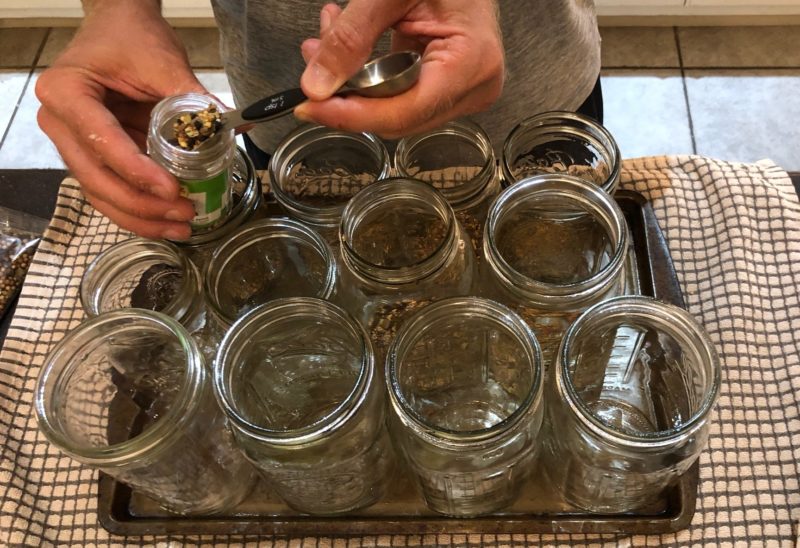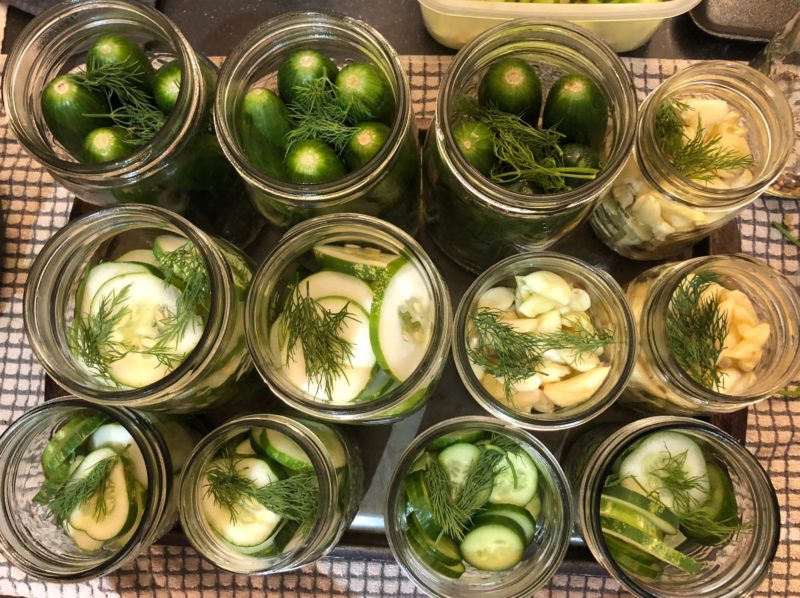 Most of what we've done is water bath canning, a process for preserving high acid foods which involves submerging them in boiling water for a specified time to seal and preserve the food instead of using the pressure cooker setting. It requires only a few pieces of equipment and simple instructions anyone can follow. I'm not here to reinvent the wheel, for a step-by-step process and canning 101, check out the Ball website. They have some great resources available! You can also learn how to do refrigerator pickles, which have a shorter shelf life but requires no equipment other than your jars and the ingredients!
Here are some basic items you need to start preserving:
A large pot. We purchased this pressure canner and cooker that came with a toolkit, but there are cheaper options available
Ball jars. There are few things we are brand-loyal on, and Ball is one of them. This is only because Nick and I both received our undergraduate degrees from Ball State University, home of the Ball brothers, founders of the Ball company and creators of these glass jars.
Some basic recipes. We have found the Ball Home Preserving cookbook to be a great resource, and have tweaked a few of their recipes to our own liking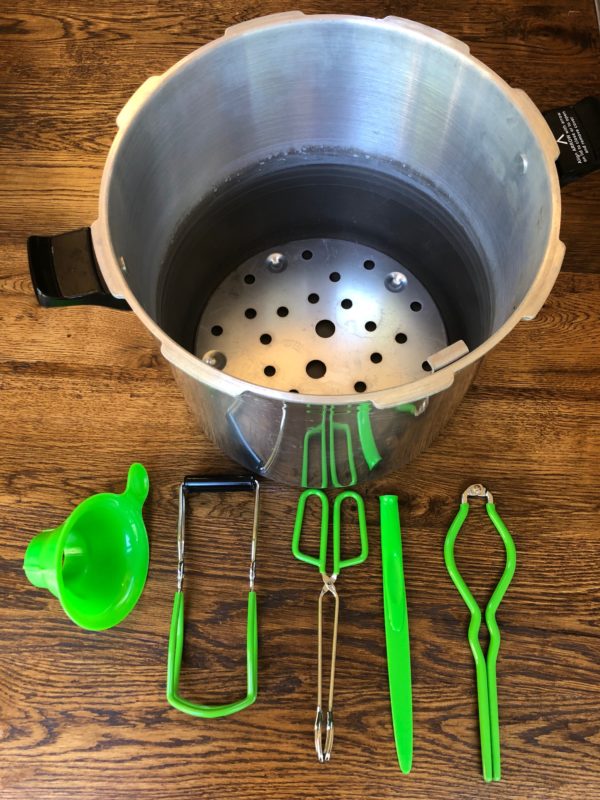 In past summers our dog, Charlie, had always kept the scavengers out of our garden. He passed away in June this year leaving us heartbroken and also allowing our garden to function as an all-you-can-eat buffet for the local wildlife. We didn't get around to putting a fence up and consequently didn't pick a single tomato that wasn't half eaten. But, apparently the deer and rabbits' taste for peppers and cucumbers were less refined, so we ended up with an abundance of these.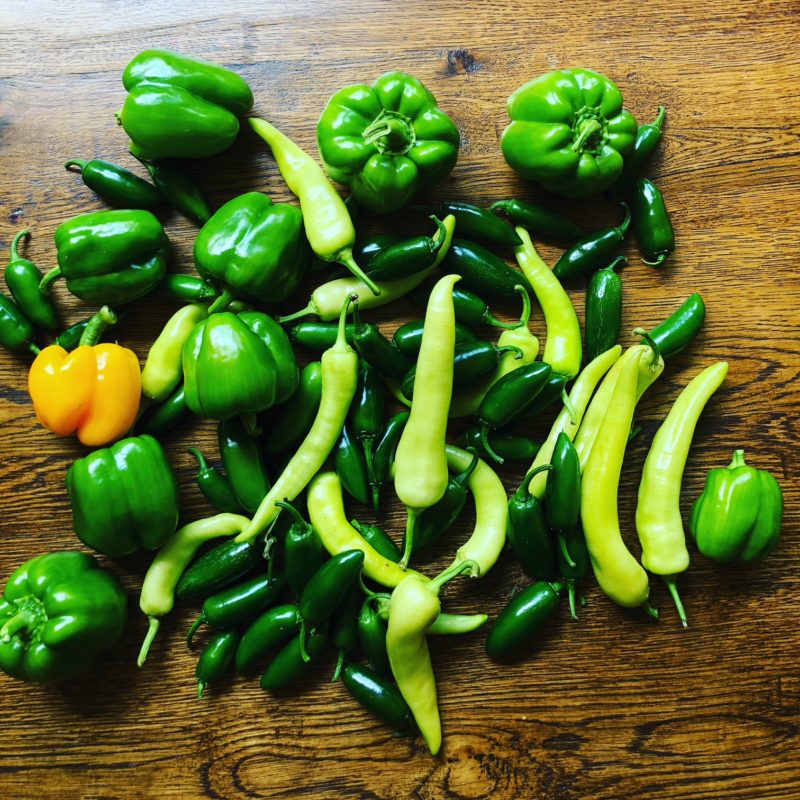 We spent some time over Labor Day weekend canning and pickling peppers, cucumbers and garlic. We also made jalapeno jam for the first time (don't knock it unless you've tried it, I'm going to give you a recipe for an appetizer to die for).
Our recipe for dill pickles includes a few cloves of garlic. Nick and I would fight over the pieces from the pickle jar so this year we decided to pickle several jars of garlic alone. Pickled garlic may sound strange but I promise you it's delicious. I was trying to recreate the garlic our favorite local pizza shop, Azzip, uses on its make-your-own pizza line.
We pickled jalapenos and banana peppers using the same recipe as the pickles, which included a generic pickling spice blend and fresh dill.
We also took a stab at homemade pepper jam with fresh jalapenos. If you've never had pepper jam, it's a perfect blend of sweet with a little kick. It's not super hot because you deseed the peppers, although you could certainly leave a few in for extra heat. My favorite use for pepper jam is pouring it over a block of cream cheese, making a spread for crackers. This is a guaranteed crowd-pleasing appetizer!
If you love the idea of farm-to-table, canning and preserving is a great way to start making your own delicious foods. The process is really quite simple, no more complicated than following a cookie recipe. Try picking fresh berries or peaches at a local orchard or plant a single pepper plant in a pot and make your own jams and jellies. Roast some fresh tomatoes, peppers, garlic an onion along with a few spices, and blend for a homemade salsa that would be perfect for canning. Enjoy these homemade treats throughout the year! See our super simple pickling recipe below and share with us your favorite recipe!
Our Super Simple dill pickle recipe:
3 cups of vinegar (white or apple cider)
4 cups of water
2 tablespoons of sugar
1/4 cup pickling salt
2 cloves of garlic
1 tablespoon of generic pickling spice (or local grocery has its own blend but generally these consist of mustard seed, coriander, red pepper flakes, and other spices)
fresh dill
Bring the vinegar, water, salt, and sugar to a boil and heat until salt and sugar are dissolved. Place a sprig of dill, the garlic, and the pickling spice in the bottom of the jar. Fill the jar with whatever food you're pickling and top with another dill sprig. Pour in the vinegar mixture and follow water bath canning instructions.