Before purchasing our current farmhouse, we were living in a 1300 square foot ranch home where our three kids shared one bedroom. Our third was a young toddler still in a crib, while the older two were sharing a custom bunk bed Nick made that fit crib size mattresses. With a bigger house came bigger beds, which were long overdue.
I wanted farmhouse style beds for the kids. Quality furniture can be very expensive, and by making them ourselves we saved hundreds of dollars. I also love the idea of the kids having beds their dad made for them. My grandfather used to make shelves and wood projects for us and having something handmade for you is so special.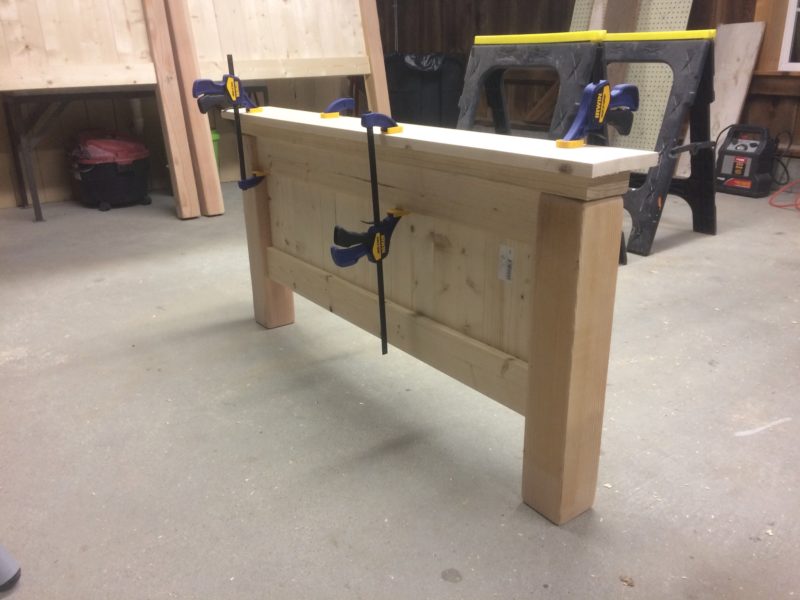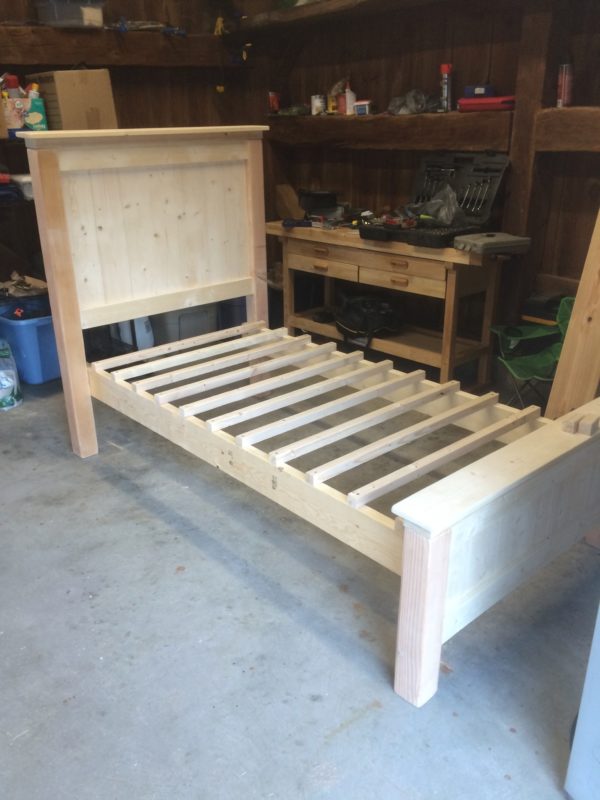 The key to building big projects is having space to work and the right tools, and fortunately, Nick loves doing projects like this. Over the years he has purchased, been gifted or inherited a lot of equipment and tools.
We found a few plans online and If I remember correctly we used one as a guide and Nick made some custom changes. I'm always amazed watching the progress.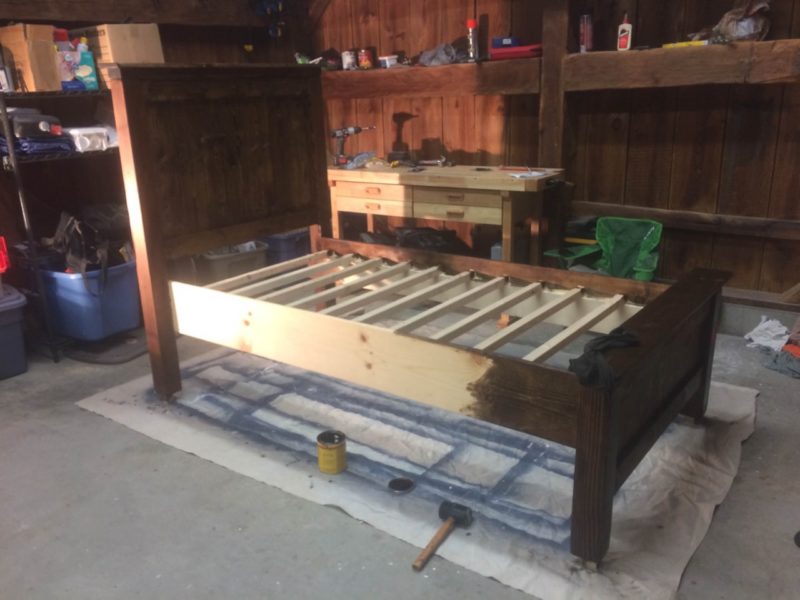 The hardest part for me is picking the stain. Even looking at a small sample, I have a tough time getting an idea of what it will look like on a large piece of furniture in a small room. We went with a dark walnut and it really looks great in the boy's room. I chose quilts, a basic navy, I found from Target and simple gray sheets. It all looks very classic to me and adds that farmhouse touch I was looking for.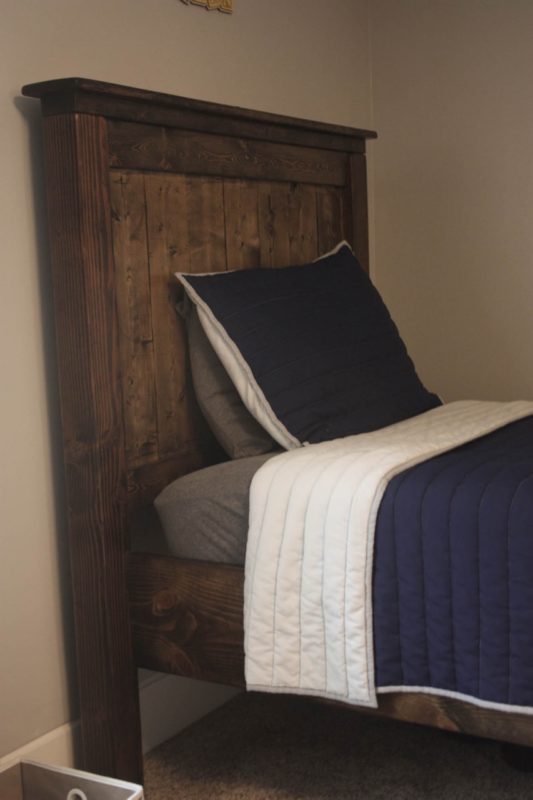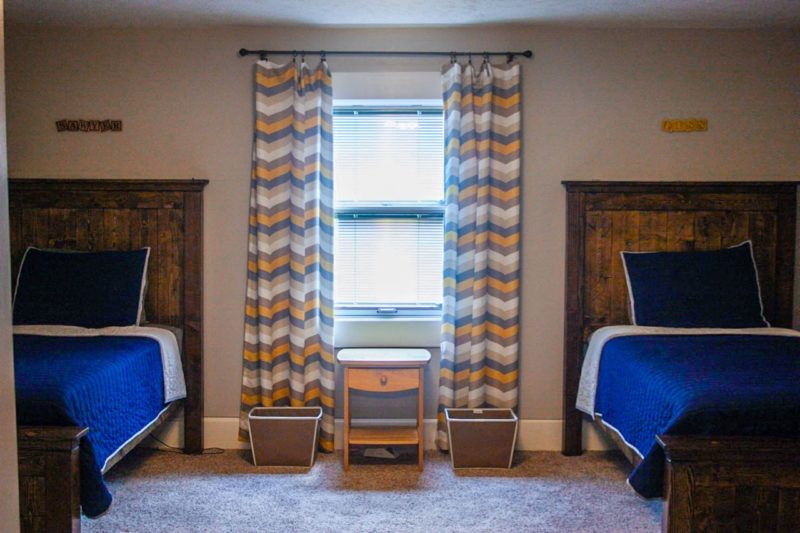 For my daughter's bed, I wanted something a bit more feminine but still classic. I found a tutorial online on how to DIY a tufted headboard and for the most part followed the instructions. We used pegboard to align and drill the holes used to thread the twine for tufting.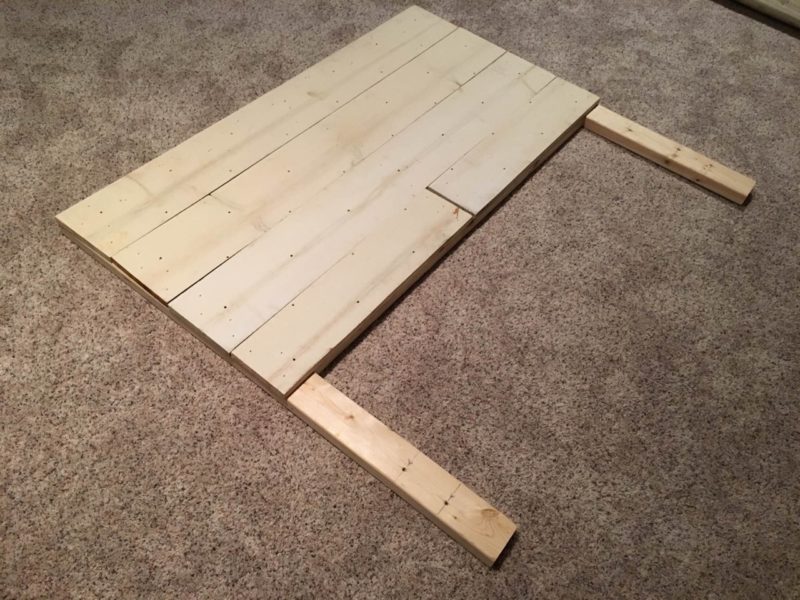 A mistake we made was purchasing an egg-crate style foam instead of flat, because the texture actually shows through the fabric, especially in certain lighting. But, it wasn't worth redoing the whole thing and it still looks adorable in a little girls room. I found a bold, pink chevron-style quilt and matching curtains for her room. I don't actually love them but she does, and it's a nice transition from baby or toddler decor to little girls.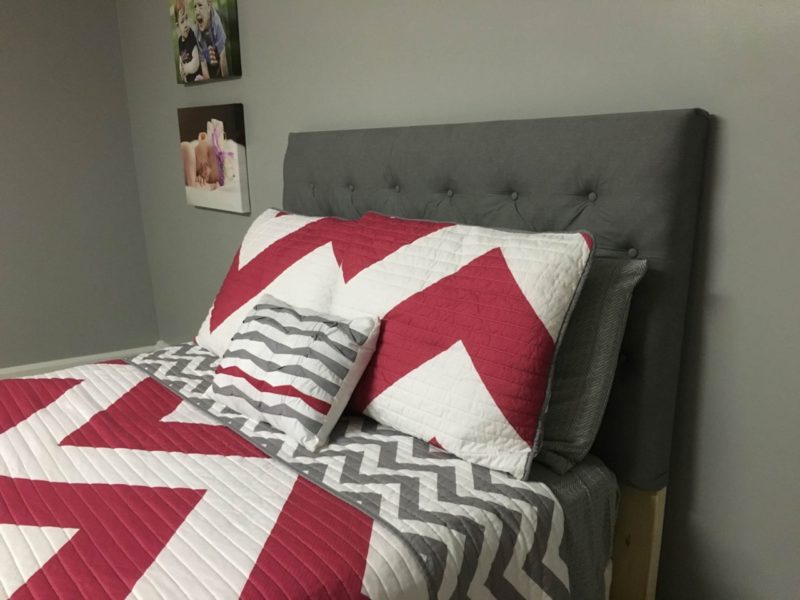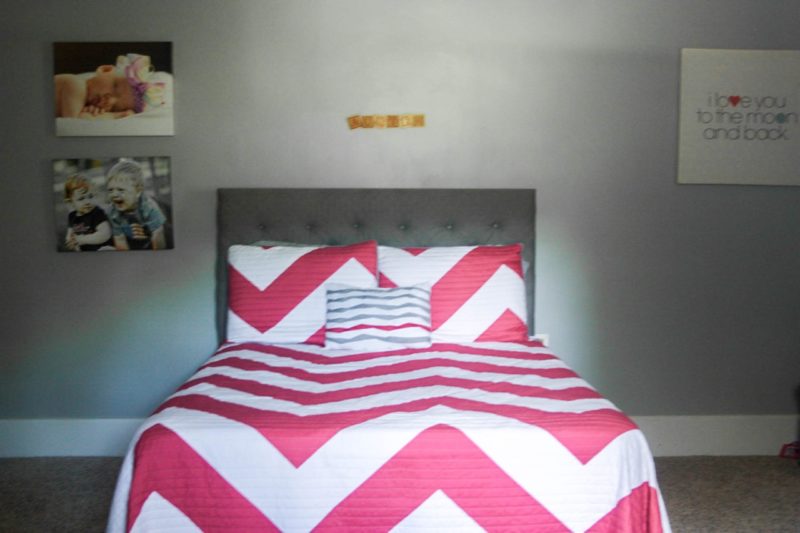 The next bed project will probably be two new beds for the girls. We'll need twin beds in order to fit two of them in their room, but I may play with the idea of a trundle or day bed. It will be tricky to figure out the layout of the room but we won't be able to do that until the baby is ready for a big girl bed so we have time.
We also want a new bed for our master bedroom. Right now we have a queen because that's what fits in the layout of the room. The furniture was a set we purchased years ago and while it's nice, I find it bulky and would rather pick intentional pieces than a matching suite. The main reason I want to hold off, however, is because eventually, I'd like to do an entire renovation of our master bedroom and bathroom which will include making room for a king size bed. I see no immediate future where children are not climbing in our bed in the mornings and let's be honest, I'll cry the day they stop. A king is needed to fit the entire Basham crew! This renovation will be a pretty big one so, for now, I'm sticking with a generic setup in our room.
Show me your favorite DIY beds or ideas in the comments!