A quick guide to planning your newborn and family photoshoot
I should probably rename this post the "lack of" planning for your newborn and family photo shoot. We had not previously taken designated newborn photos of our youngest three children, although we try to get family photos once a year so each of them did have some cute professional pictures from some time during their first year of life. But the adorable staged photos where the photographer molds the 2-week old pliable infant into darling poses, we had not done. This was for various reasons. With our first child, we couldn't justify the cost with me still being in school, also I'm not sure it was as popular of a thing to do at that time. With our second child we didn't really think about it and had family pictures taken when she was still newborn-ish so we figured that counted. With our third, we sort of felt like we didn't do it for the other two, so why start now? I could just picture him being the only one with a newborn album claiming he was surely mom and dad's favorite. That is assuming we ever get around to printing an album. So with baby number 4, we went back and forth again. I contacted our photographer assuming she wouldn't be available on such short notice, but low and behold she had an opening that week, so I booked a shoot for our 12-day old infant and her siblings.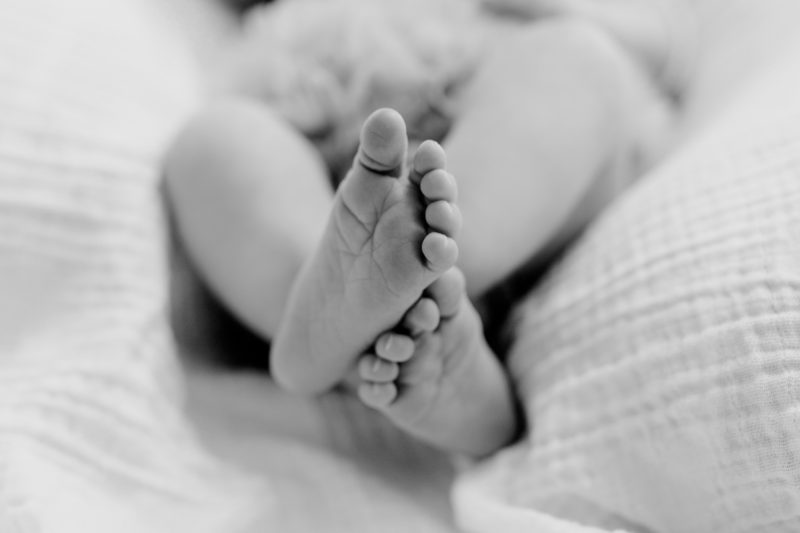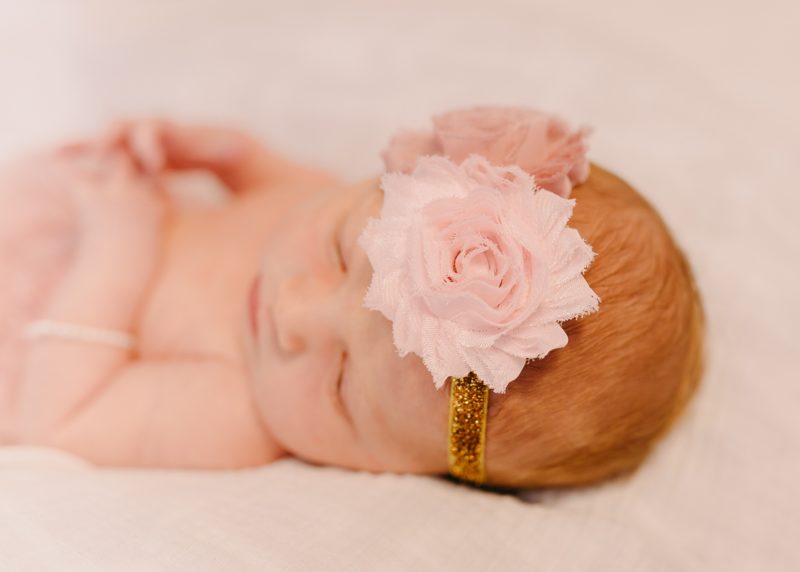 Onto Pinterest and mom blogs I went to try and figure out the perfect outfits for the family. Baby was easy, she had some cute newborn outfits complete with all the fluff and ruffles. This other kids, on the other hand, were a little lacking. Their fall/winter pants were now ankle-high and most of the boys' tops were athletic wear. I guess we're all getting new clothes. Really? Paying for photos isn't cheap and now I'm going to spend at least $100 on new dress clothes for everyone. Naaah. Wait, Easter is coming up, perfect, two birds with one stone helps me justify the cost! I purchased matching Easter dresses for the girls and fun spring dress shirts for the boys literally the day we had the photos scheduled. As I was about to check out, I decided I didn't really like that look for photos. Too formal. Pictures were now 4 hours away (great preparation, right?). At the last minute, I went back and grabbed two $5 white t-shirts and a simple white cotton dress. White T's and jeans, a classic look you can't go wrong with and doesn't break the bank. My husband had recently purchased a new wardrobe, which was long overdue so he was set.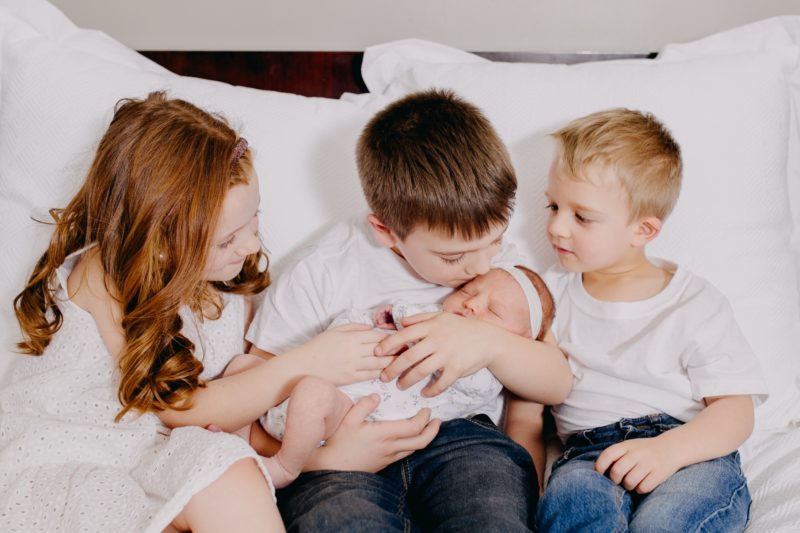 Once home I tried to relax a little until I realized I was forgetting someone. Oh yeah, me. I ran through my closet and realized I was quite limited on tops that didn't accentuate my two-week postpartum belly. The only one I felt looked decent kind of clashed with the baby's colors, but oh well. I squeezed into some distressed skinny jeans hoping they would suck a few pounds in. I was laughing at the situation, because even a year ago I would have taken days to plan a perfect family photoshoot and here I was throwing together my outfit last minute, breastfeeding with one arm and still putting makeup on with the other when our photographer arrived. One of the things I love most about baby 4.0 is how relaxed she has made us, because we don't really have a choice. The only thing micromanaging and over planning does is exacerbate the disappointment when things inevitably don't work out as planned.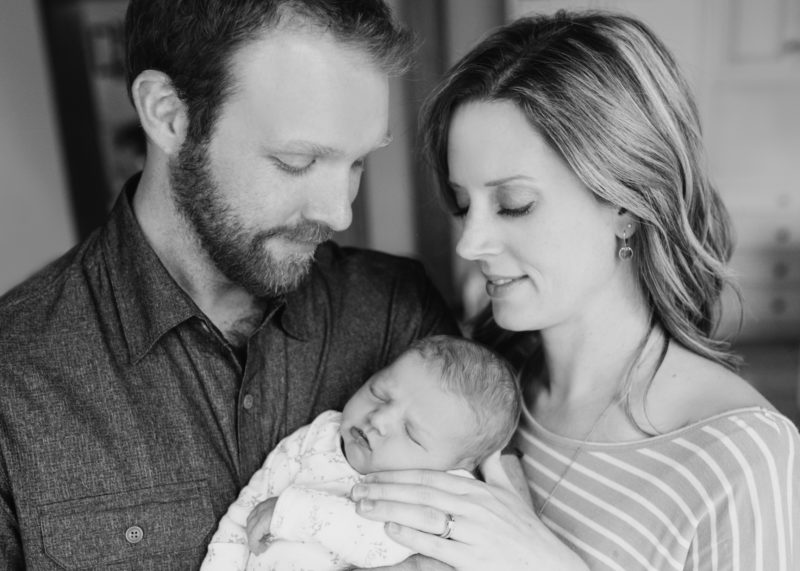 We bribed the kids with ice cream if they could produce some non-creepy smiles and behave for one hour while we took pictures. They miraculously all behaved. There were a few creepy smiles. Having an infant around has really allowed all of us to chill out a little. White and denim was the perfect vibe. We took photos on our white bedding and in our living room, very casual. Our photographer worked her magic as usual and we were thrilled to see how they turned out. Sometime in the next 10 years, we'll get a phonebook printed.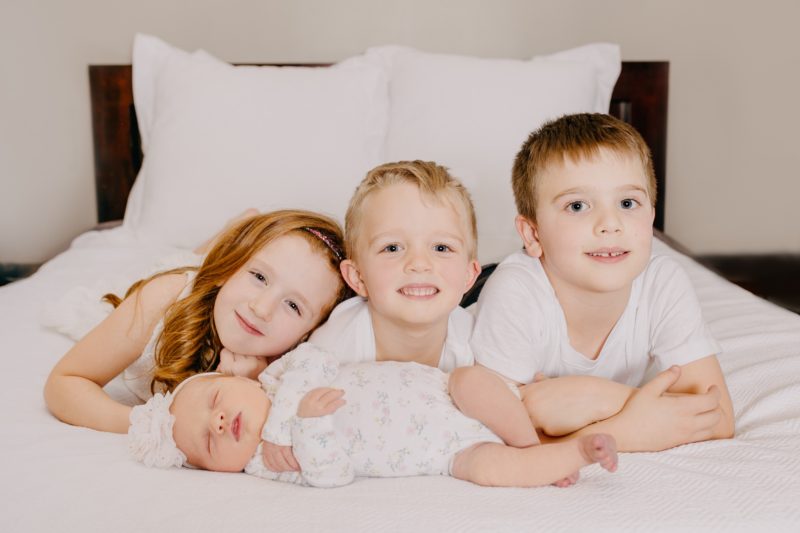 Tips for last minute family photos:
Don't stress about clothes. Go for something classic or casual. Everyone doesn't have to match. If you prefer matching, have everyone wear white and then accessorize with scarves, boots, etc.

Find a good photographer. I love that ours has been taking our pictures for six years and knows our family and quirky kids' personalities. If you're trying someone new, look through their website and make sure it's a style you like. Find poses from their gallery or Pinterest and send them to your photographer beforehand.

Our photographer asked me to send a few photos from inside the house so she'd have an idea about the setting and lighting. That was genius because when she got here she already had a plan and setup was quick. Photographers prefer natural light so scoping out an area near windows or pictures outside on a cloudy day are optimal.

Always bribe the kids. In past shoots, I have a bag of skittles open and pass them out every 5-10 minutes they continue to smile and behave, which worked especially well when they were toddlers. The ice cream was a hit this time.

Keep the photos real. It's your kids' personality that you love, so don't try to cover it up by making them do something that doesn't fit. Just be yourselves and let your photographer figure it out. While they're really cute for some families, my husband shirtless with a naked newborn or kids making a heart with their hands just wouldn't feel like us. If you're asked to do something that feels weird, just say so. Your photographer may have a creative idea that's worth trying and turns out great, but let them know how you feel if you end up doing a lot of poses that don't feel comfortable.

Get a mix of posed and candid photos. The posed photos don't highlight personality as much. Have dad wrestle with the kids or have the kids play in a pile of leaves and let the photographer grab a bunch of candid shots. Those are the ones that always turn out the best.

Don't forget to do something with your pictures. This is the part we struggle with. My goal is to go back and have a photo book made of every family photo shoot we've had. We also have used Canvas on Demand for good quality canvass prints that we have around our house. They frequently run specials through Groupon or Facebook.
A special thank you to our talented photographer Rachel Mathew in Evansville, IN. www.rachelmathewphotography.com/