The dead space under our main staircase was frequently a topic of conversation between my husband and I. With the odd layout of our house there really weren't a lot of options for making this space usable. In many homes, areas like this are turned into a closet which makes sense. In our living room, the couch backs up to the staircase, making the area basically hidden unless you make an effort to look there. The space had become a designated hot spot for random toys, blankets, lost remotes, a quick place to throw junk from the living room I didn't feel like putting away when company came over, and most recently my dumbbell weights.
I found some creative ideas online for turning this kind of space into a reading nook for kids. When Nick took some paternity time off while I was home, we decided to finally work on this area. It turned out great! We spent around $150 for everything and now the space has a purpose. The kids love it and immediately took to snuggling up to read and play on their tablets. If we squeeze tight, I can fit with all 4 kids for a bedtime story, but I suspect this will mostly be a space for them. Perhaps after bead time, I will sneak back there with a glass of wine and a good novel. A girl can hope, right?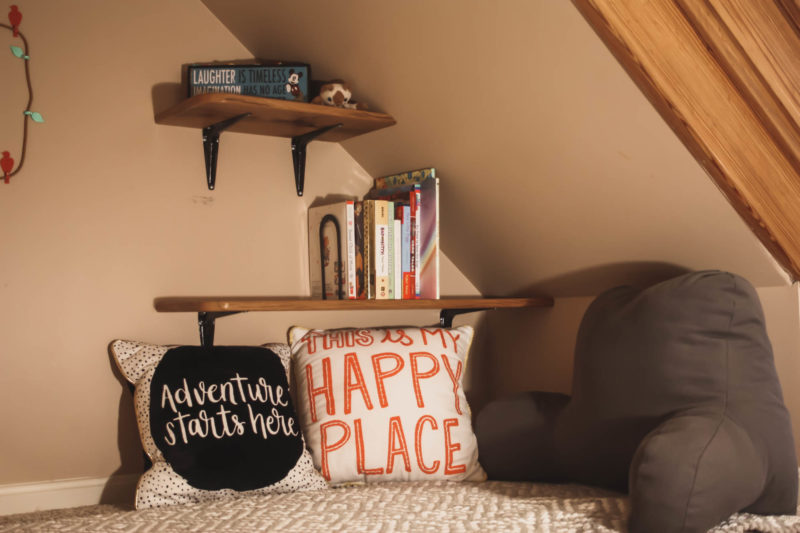 The couch was moved to take photos, but you can see how it would enclose the space. The shelves and bench were from some of our barn wood which Nick ran through the planer and cleaned up. He also rounded the corners of the shelves with a router to avoid eye injuries. I love these flat industrial looking brackets which we purchased at Home Depot. We have used them several places throughout the house and they look great with barn wood or any kind of stained wood. The wall lamp, rug, and pillows were from Target and the cute cable clips (a great way to make an ugly cord cute!) we purchased on Amazon.com. I still want to print a vinyl decal, probably a Dr. Seus quite, to stick on the slanted wall.  
Have you repurposed a dead space or non-functional area of your house? Show me the pictures! Tag Village Farm Life on Instagram or Facebook to share!
"This is My Happy Place" Pillow
"Adventure Starts Here" Pillow